Purelands Retreat Centre - Venue for Hire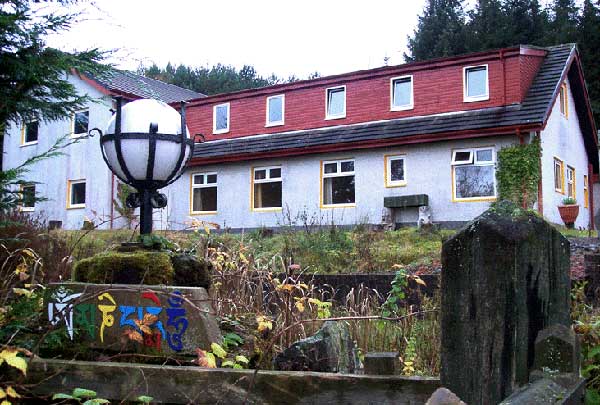 Looking out over the River Esk in the peaceful hills of the Scottish Borders, you can see why meditation masters from Tibet decided to build the
Purelands Retreat Centre
on this spot. Bringing their wealth of knowledge to this ideal natural environment, they originally built the centre to hold the first authentic Tibetan Buddhist long-term retreats ever seen on British soil. Today Purelands is available to hire for workshops and courses that promote physical, mental or spiritual wellbeing. So now you can benefit from timeless wisdom by holding your retreat in this place too.

Look within...
Inside the centre, comfort and simplicity combine to offer perfect conditions for personal or spiritual development. Its gentle uplifting energy has been enriched by the visits of H.H. the Dalai Lama and many more of the greatest Buddhist teachers of our time. There are comfortable single bedrooms for all your students while the meditation room gives you an inspiring space for many different workshop activities.
Experience peace of mind
From clean rooms to plenty of good food, we'll do whatever we can to help make sure your students have the best possible time. We'll be there to serve 3 vegetarian meals a day and ensure that there's more than enough tea to keep everyone refreshed in between sessions. We'll always be close to hand if there's anything else you need too.
...And enjoy yourself
Take in the views from the centre's grounds, enjoy a walk through quiet forest tracks or head down the road to discover the many attractions of Samye Ling Monastery. You'll find many paths to explore in your free time that will make your retreat at Purelands even more fulfilling.
Holding your retreat at Purelands
Accommodation for groups of 10 - 32 people*
20' x 40' meditation room which can also be used as a workshop or yoga space.
Comfortable single bedrooms for all your students
£102 per day for facilities plus £37 per person a night (full board)
* Subject to availability, and alternative venue for groups that are smaller or larger than this can be provided at Samye Ling itself.
Minimum stay is 5 nights with a minimum of 10 people, but we are happy to take bookings of 7 days or more.
Bookings are confirmed on receipt of a £100 non-refundable deposit. We regret that we are not able to cater for special diets.

To book or to find out more information please contact us at:
reception@samyeling.org